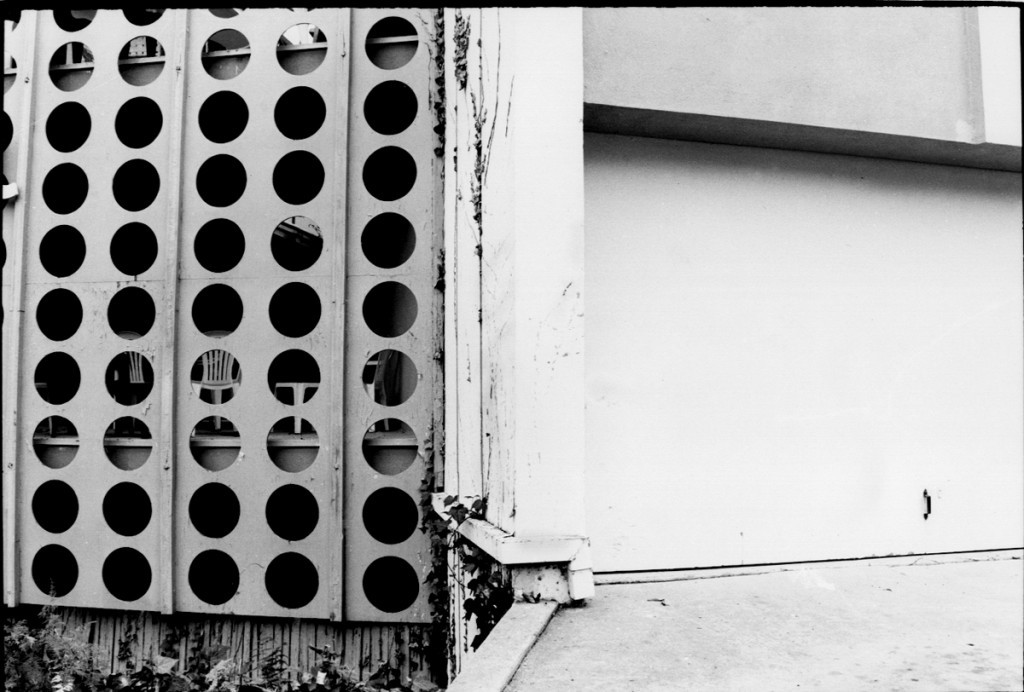 For Audrey Totter, 1917-2013
For the west side and the Hollywood hills, the northern boundary of this sense of region, I came to rely on films like In a Lonely Place, The Big Sleep, Mickey Rooney in The Strip, Tension with Audrey Totter, and later Night Moves and The Long Goodbye – enclaves of wealth along Sunset, the tree shaded club life, winding streets in the hills, and roughly parallel but less endowed, the citified and transient blocks of flats and courts along Franklin where Gloria Grahame reluctantly falls for a demon-haunted Bogart or where Jean Louis Heydt plies his grifter's trade, and luxe but intimate shopping strips like Beverly or Melrose populated with phony antique dealers, stoned heiresses, and easy lays. It wasn't far from there down Sunset to the beach, to Raymond Chandler's corrupt Bay City, his perennial fictional stand-in for Santa Monica and Venice. The tidal flats of La Ballona Creek are yielding to the subdivisions of Culver City and Playa del Rey, while in Santa Monica lie the quiet duplexes housing Chandler's array of quacks, health nuts, purveyors of high colonics and dubious prescriptions, boarding houses of muggle smokers, ice pick specialists and jaded pleasure in general, the shaggy, eroding coastline of the real at perpetual odds with its glorification in the cult of real estate and the hangout variously of William Randolph Hearst, Howard Hughes and Charles Manson – or north to the beach colonies at Malibu whose private wealth and ocean views could conceal a whole littoral of pain. Here most memorably for me, Sterling Hayden as the alcoholic novelist in The Long Goodbye, follows Norman Main and walks out to sea in his Galway tweeds – the fulfillment of so much Los Angeles dreaming, literally wading into the sunset, captured by Vilmos Zsigmond in a window reflection shot while Elliot Gould, Robert Altman's clueless anti-Marlowe, stands with his back to the ocean holding the phone.
For the east side, downtown, Bunker Hill, and the long trip south down Vermont and Western to Inglewood, Compton and Gardena, the FHA subdivisions where Bela Lugosi meets his end in Ed Wood, I came across the films The Killing and Cry Danger!, and later, Chinatown and Farewell, My Lovely. Here the texture of pre-First World War Los Angeles leaches through into the forties and fifties in the whole panoply of racial and economic exploitation – too far from the beach to cool off, this is the Los Angeles of heat and dust, the native fascist Father Coughlin followers at the southern down-scale edge of the Los Feliz district, Nathanael West's bible-beater locusts come from the Midwest to die, the crowds of the credulous and aggrieved waiting for Aimee Semple Macpherson at the Olympic Auditorium and buying postcards of her ascension over the Santa Monica pier, "Ham n' Eggs" movement tourist court brownshirts in Long Beach, red baiters going after Helen Gahagan Douglas, the "Pink Lady," goons and union busters, the corrupt cops, the racist blight – Sleepy Lagoon, Hillerich and Bradsby Pachuco beaters, gyrenes, GI's, flyboys and tin can crews pouring out of the Hollywood Canteen to break heads in the zoot riots, Christians Only For Rent classifieds, shine boxes on Central, and all the rest of it. "He killed his career marryin' that nigger," rasps Sylvia Miles' alcoholic ex-hoofer in her Bunker Hill flytrap in Farewell, My Lovely. "We don't say that word," says Mother, after Great-Uncle Mac, enjoying a postprandial stogie in his house off of Exposition Boulevard, essays the same term at the sight through his living room window, past the doilied television and chairs of close-cropped chenille, of three black women making their stately way down the sun-struck street dappled in the shade of fig trees while I, seven years old, in white shirt, slacks and Buster Brown shoes, the table between us spread with china, the flowered scalloped dishes and large silver serving spoons in the recreation of a Nebraska summer Sunday, employ in the spirit of when-in-Rome the same epithet. "No," says Aunt Susie indulgently, with a sigh, "we don't," large in her flowered dress while Mac, unperturbed in his last two years of health before a conniving neighbor bilks him of his and Aunt Susie's meager savings so that he will die penniless in a hallway at LA County General, only continues to gaze placidly out the window, working at his panatela. This map quadrant is illumined a dusty rose where off-duty waitresses like James M. Cain's immortal Cora sun their aching dogs on chaise lounges in a trailer court, dreaming of perfect whiteness, and Richard Erdman, the seediest Babbit in a short handpainted necktie a la Mickey Cohen, makes highballs while the chemical sunset backlights the Brew 102 tank above Boyle Heights. In these inland zones, Father's black Buick also moves distantly through this long shot in the summer of 1954, fast down Spring to a hardware store on Flower where he needs a sale, his first job with a family to support out here on the coast, smiling in his most friendly, church-greeting way – "Yes sir, how're we doing today?" – but flat broke, determined not to borrow money from his more successful brother-in-law, gnawing on his lip in the car, eyes blinking, and needing badly for the indifferent proprietor to sign on for some door hardware, knobs, clasps, deadbolts, and maple pulls. He parks his car in the X-shaped shadow of the big Felix Chevrolet sign on Figueroa, Felix the Magical Cat, his grin and bag of tricks. Then in this film, a film of growing dread, a suspense movie, we cut to a night location at Hollywood and Beverly in a Seventy-Six station's inundation of fluorescents, where Charles McGraw, jaw crawling with his current case, distractedly moves his Ford prowler across an intersection. At the same light, I sit in the back seat of our Buick behind Father and Mother in the great city of night, nicely dressed to go downtown under the dead gaze of the hard leather button eyes of Mother's fox stole, its tail in its teeth draped over the seatback. Something draws my gaze to the right and I feel my hair freeze while in the rear of the next car, a slyly smiling Mexican boy riding with his homies shows me a snub-silver Police Special.